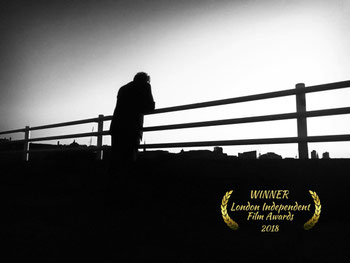 Official Festival Selections & Awards
London Independent Film Festival (UK Premiere)
Official Selection
Gold Movie Awards (March 2018)
Best Actor (Kevin Fuller)
Oniros Film Awards (April 2018)
Best Inspirational Film
London Independent Film Awards (April 2018)
Best British Short
Independent Shorts Awards (June 2018)
Gold Award Best Original Score (Falk Wünsch)
Honorable Mention Best Female Director (Annette Westwood)
Honorable Mention Best Acting Duo (Kevin Fuller & Annette Westwood)
Lift-Off Global Network: First-Time Filmmakers Showcase (UK Industry Event)
Official Selection

IMDb: http://www.imdb.com/title/tt7238354/
SYNOPSIS

A man who feels isolated and has lost all hope, stands on Waterloo Bridge contemplating his fate. A stranger seeks to intervene. She can't stop him but she can't walk away.

STORY

Amongst the iconic landmarks of London, a man overwhelmed by despair and burden by life, stands on a bridge contemplating finding peace at the bottom of the Thames. A concerned stranger stops and urges him to reconsider. Will her actions act as a catalyst in his life or death decision?

At once unique and entirely familiar; a timeless story that explores hope and despair.